One of ATI's specialties is systems integration.
Our staff has a combined 150 plus years of aircraft customizing and systemsintegration experience that ranges from VVIP interiors, to law enforcement, EMS, utility operations, to military applications. We provide our clients with a turn-key, one stop approach to integration and certification.
Our staff of programs management, designers, drafters is supported by our in-house FAA Designated Engineering Representative (DER) and our in-house FAA Designated Airworthiness Representative (both Maintenance and Manufacturing). We control the process from inception through design to certification right up to delivery.
Our support staff is then ready to provide follow-on assistance and/or support if needed.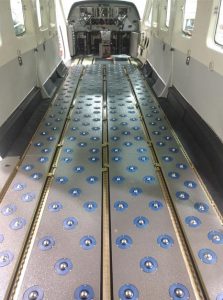 The ATI team engineered and certified a roller ball cargo floor to be installed in the C208 EX Grand Caravan. This aircraft is used to transport supplies and outfitted with two medical kits designed by the ATI Team to enhance the Rwandan Air Force's ability to assist in any emergency medical situation. The aircraft is designed to be quickly and easily modified. The versatility of the configurations was necessary to support changing mission requirements for the Rwandan AirForce.